to the survey
Rhine cycle track
Cycling trip along the romantic castles and mansions in the Loreley Valley
Signposts - Rhine cycle track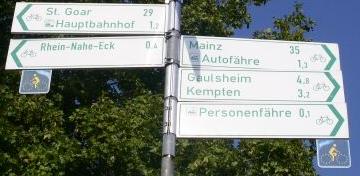 Signposts - Rhine cycle track
The signposts are close together and the track runs mostly close to the Rhine, so you cannot possibly get lost. On the left Rhine Cycle Track the distance from Bingen to Koblenz is 64 km. On this direct section of the cycling trip, close to the Rhine, you climb 13 m and you descend 31 m, so this cycling trip suits also untrained bikers. Those who want to make greater efforts can climb to any castle along the track and of course also to the plateru on the Loreley.
Short description of the Rhine Cycle Track.
The cycling trip along the romantic castles and mansions on the Rhine Cycle Track in the World Heritage Upper Middle Rhine Valley passes by originally preserved, unchanged medieval castles such as the Marksburg and the Pfalzgrafenstein in the middle of the Rhine, and also the ruins Fürstenberg, Ehrenfels end Rheinfels. On this trip you also see meticulously restored catles such as Sterrenberg, Stahleck and the Schönburg. But the highlight of your cycling trip is the world-famous, legendary Loreley rock. Here the Rhine is only 113 m wide. A gradually ascending cycle track on an old narrow gauge railway leads to the Loreley. Besides all that you can enjoy Rhine wine from well-known vineyards such as the Bopparder Hamm.
Itinerary of the Rhine Cycle Track
The itinerary of the cycling trip along the romantic castles and mansions has been developed in such a way that you follow only sections that are away from the roads or that have their own cycle track. In the towns and villages the track follows partly very lively promenades along the Rhine. Many sections of the track are close to the Rhine or run through small parks.
Sights