Rhens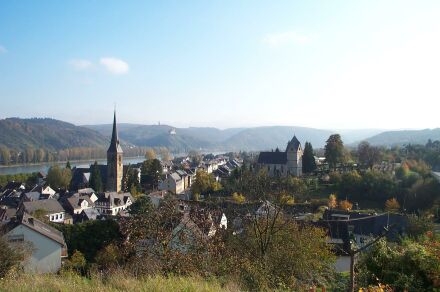 Rhens at the Rhine is not only a wine city, as one could assume from the Lahnsteiner heights, attractively spread on the bank of the river, which finally loses itself in the flanks of the mountain range to the Hunsrück:
History was written by the convention of the electors in Rhens called "Rhenser Kurverein".
The electors of the German empire met, to choose their king but also their emperor at the "Königsstuhl" (chair of the king) in Rhens.
The outstanding architectural witnesses of that time are impressive: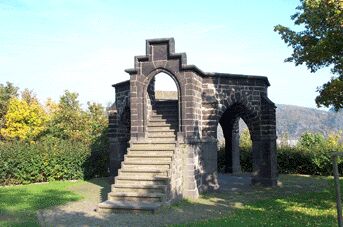 The "Königsstuhl"
(chair of the king)
The historically most important construction is the "Königsstuhl" (chair of the king). In the year 1400 "King Ruprecht of Palatinate" was elected here as the first German king. The following kings presented themselves on the "Königsstuhl" (chair of the king) and took an oath of loyalty from their vassals. Due to the settlement of the company "Rhenser Mineralbrunnen" the "Königsstuhl" was removed from its original location in the year 1929 - the today's Rhine pleasure grounds of Rhens - and was rebuilt above Rhens. There this contemporary witness can be visited today at any time and serves at the same time as marvellous lookout point over the Rhine Valley.
Source: photos and text VGV Rhens
Bookmark this article at ...












Current Loreley
Loreley guided tours
Tour "Enchanting Loreley"
Tour "Enchanting Loreley" including nature hike and wine tasting
Registration Loreley Tours
Fon: +49 (0) 6774 – 745
Fax: +49 (0) 6774 – 8174Mail: info@tempus-rhenus.de
Wine festival Braubach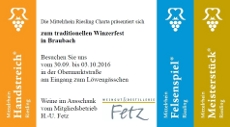 From 30th of September till 3rd of October the Mittelrhein Riesling Charta will be exhibiting for you at the wine festival in Braubach.
Visit us at the Obermarktstraße at the entrance to the Löwengässchen.
We offer wines from the member company H.-U. Fetz.
We are looking forward to your visit!
Bridge
St. Goarshausen - St. Goar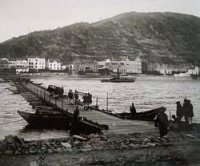 Source:
Archive Loreleycity St. Goarshausen
More historical pictures www.st-goarshausen.de » .
Häuser Crane
Loreley Song
by Jasmin Hillgruber from Lübeck.
Please select the loudspeaker.
Deutschland Germany information
Rhein river information
Loreley Info now mobile