Former Prince Elector's Castle in Boppard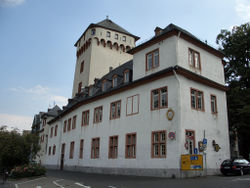 Source: Holger Weinandt GNU FDL
Opening hours

April - October
daily except Mondays
10 a.m. - 12 p.m.
2 a.m. - 5 p.m.
Phone: (06742) 3888
The castle in Boppard is one of the important fortified complexes at the Middle Rhine. It was built by Balduin the archbishop of Trier as a stronghold after he had conquered the town in 1327. The tower with pouring holes belonged to the original building, the four wings and the yard date from the 17th Century.
The castle accommodates a museum of local history, forest and wood, that shows in particular the development of the well-known Thonet chairs. The Roman fort of Boppard, rectangular with round towers, shows the best preserved fort walls of Germany. They were partly used in the Middle Ages for the city fortification. The piece of wall with towers close to the castle is very impressive, a further one is in the west (archaeological park).
Source: Mittelrheinforum
Bookmark this article at ...