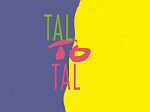 Tal Total - Car free field day - CANCELLED DUE TO STORM
Once a year, cyclists, skaters, rollerbladers and pedestrians take over the main roads on the right and the left banks of the Rhine between Lahnstein and Rüdesheim, resp. Bingen and Koblenz-Stolzenfels.
For one day from 10 a.m. to 6 p.m. the World Heritage Site "Upper Central Rhine Valley" can be experianced without cars for a length of about 60km.
Locality: Tal der Loreley