Kamp-Bornhofen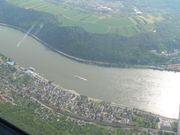 Source: Roland Todt GNU FDL
A must-see is the Holy Maria Sanctum in Kamp-Bornhofen, the destination of a unique ship-procession since the 13th century. The corresponding minster houses exquisite art treasures.
The city of Kamp-Bornhofen is also well known because of its two castles Liebenstein and Sterrenberg, popularly called "the hostile brothers".
Source: Mittelrheinforum
Bookmark this article at ...












Loreley up-to-date
Bridge
St. Goarshausen - St. Goar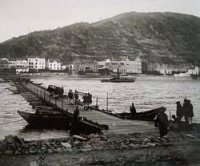 Source:
Archive Loreleycity St. Goarshausen
More historical pictures www.st-goarshausen.de .
Loreley Song
by Jasmin Hillgruber from Lübeck.
Please select the loudspeaker.
Deutschland Germany information
Rhein river information
Loreley Info now mobile