Bingen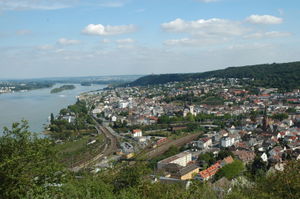 Source: Peter Weller GNU FDL
Bingen is a modern city in the Upper Middle Rhine Valley World Heritage. Here the Nahe flows into the Rhine. The Romans fortified Bingen as a strategically important place. The town's landmark is Klopp castle. The few Roman relics are exhibited in the Historical Museum close to the River.
In Bingen one can taste a good wine, because it is the intersection of the winegrowing districts Nahe, Rheinhessen, Mittelrhein and Rheingau. The best occasions are the annual celebrations: "Sektfest" (sparkling wine party), "Nacht der Verführung" (night of seduction), "Bingen swingt" (Bingen is jiving), Rhein im Feuerzauber (fiery magic) and "Binger Winzerfest" (Bingen Vintage Festival).
Sportive activities
Bingen is a starting point for many sportive activities, such as hiking on the trail Rhein Burgen Wanderweg, canoeing and biking on the romantic castles and palaces tour. There are also attractive routes of a "Nordic Walking Course" leading through the forest of Bingen and the vineyards on the Rochusberg.
The city offers several sights:
St. Martin basilica
Peter Weller GNU FDL

Rochus chapel
Manfred Heyde GNU FDL

Drusus bridge
GNU FDL




Old Rhine crane
Peter Weller GNU FDL
Current Loreley
Loreley guided tours
Tour "Enchanting Loreley"
Tour "Enchanting Loreley" including nature hike and wine tasting
Registration Loreley Tours
Fon: +49 (0) 6774 – 745
Fax: +49 (0) 6774 – 8174Mail: info@tempus-rhenus.de
Deutschland Germany information
Rhein river information
Loreley Info now mobile