Kaub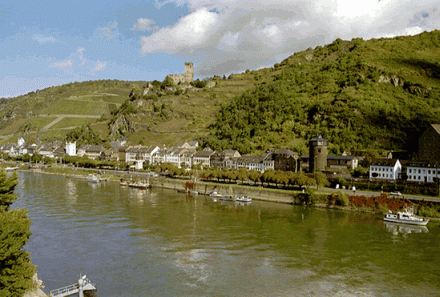 The city of Kaub, original home of the wine growers, pilots and slate-miners is well-known because of its Toll Station Pfalzgrafenstein.
The city can look back on a 1000 years old history, documented by written certifications. In 1324 Kaub received its town charter by Ludwig the Bavarian. The king built a toll station for keeping the toll and for a better control of the shipping traffic on the Rhine. It was built in 1326 on the Rheinaue (wetlands). After the enlargement as Pfalzgrafenstein it became the landmark of Kaub.
Source: Armorial of the association of municipalities Loreley
More sights
Located above Kaub, the castle Gutenfels got its name during the Bavarian-Palatine war of succession, after the city and the castle withstood a 39-days siege.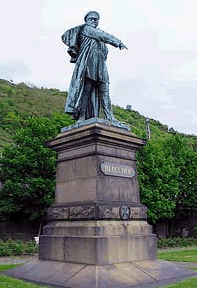 Monument to Blücher
Kaub became famous by the Prussian general Blücher on New Year's Night in 1813/1814. General Blücher and his 60.000 soldiers with 20.000 horses crossed the Rhine with the aid of the pilots from Kaub and a pontoon bridge, to drive Napoleon out of Germany.
The impressive monument to Blücher evocates that Rhine crossing.
Blücher museum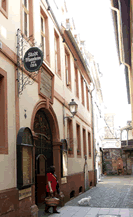 The construction of the tavern called "Stadt Mannheim" in the Metzger-lane was completed in 1780. It was probably built according to plans from the master-builder Franz Wilhelm Rabialatti from Electoral Palatinate. The public entertainment license was already given to the tavern "Stadt Mannheim" in 1764 by the Court Chancellery of Electoral Palatinate. In New Year's Night the tavern-premises served as Blücher's headquarters. Since 1913 the building houses the Blücher museum, which shows unique exhibits from the time of the German Liberation. The museum is open to visitors every day except on Mondays.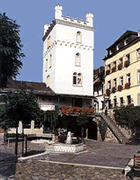 City fortifications
The Mainzer tower, a former part of the city's fortifications, is used by the credit union of Kaub, who have carefully renovated it. The city wall with battlement, first mentioned in 1275, saved the Rhine-front. It leads from the today's evangelic church tower to the office tower at the department of the Electoral Palatinate. Today the remains of the city wall serve as footway when the Rhine floods.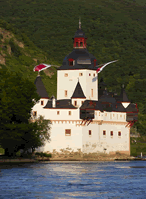 Toll Station Pfalzgrafenstein
A trip by ferry to the never destroyed castle on the Rhine isle is quite an experience. Here one can enter the world of toll collectors and traders from past centuries.
Kaub
Updated information
only in German.
Current Loreley
Loreley guided tours
Tour "Enchanting Loreley"
Tour "Enchanting Loreley" including nature hike and wine tasting
Registration Loreley Tours
Fon: +49 (0) 6774 – 745
Fax: +49 (0) 6774 – 8174Mail: info@tempus-rhenus.de
Deutschland Germany information
Rhein river information
Loreley Info now mobile