Sculpture park
The sculpture park on the Rhine height between St. Goar and Oberwesel shows many sculptures in a meadow landscape. This walk also offers very nice views of the Loreley (Lorelei) as seen from the left riverbank.
Translator: Thanks to Freddy Storm - a speedy Flem
Bookmark this article at ...












Loreley up-to-date
Bridge
St. Goarshausen - St. Goar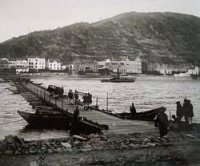 Source:
Archive Loreleycity St. Goarshausen
More historical pictures www.st-goarshausen.de .
Loreley Song
by Jasmin Hillgruber from Lübeck.
Please select the loudspeaker.
Deutschland Germany information
Rhein river information
Loreley Info now mobile