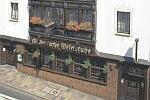 Welcome to the Altdeutsche Weinstube.

Already when entering our house you will be surrounded by a nice and warm atmosphere in our hotel which has been familyled for 5 generation



.
Our motto: "harmony of tradition and renewal" can be encountered in all parts of our hotel.

We would be happy to have you as our guests.
Hotel
"Altdeutsche Weinstube"
Ehrhard-Malgouyres family
Grabenstr. 4
65385 Rüdesheim am Rhein
Germany
Phone: +49 (0) 6722 - 942 30
Fax : +49 (0) 6722 - 471 35
eMail: Hotel-Altdeutsche-Weinstube@t-online.de
detail information