Niederheimbach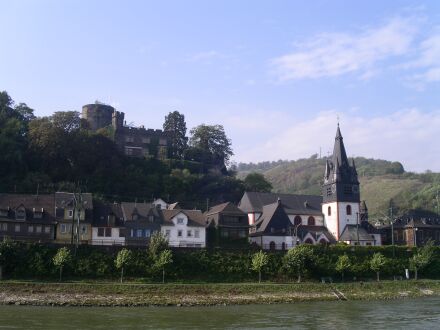 Fonte: Elke Greiff-Gossen
The city of Niederheimbach is located underneath Heimburg castle on height of the double island Lorcher Werth. Once upon a time every ship took a pilot on board in Niederheimbach, because the passage with numerous cliffs past the Lorcher Werth in the direction of Bingen was very dangerous. Thus Niederheimbach lived particularly on the lucrative Rhine navigation and on the viniculture.
Worth seeing are parts of the historic ring-wall, the pest altar in the church from the 11th century as well as a madonna from the 17th century.
The town is located on the route of the Castles and Palaces bicycle tour and the canoe tour through the World Heritage. Sporting activities, in particular hiking on the trail Rhein Burgen Wanderweg, are possible.
Current Loreley
Loreley guided tours
Tour "Enchanting Loreley"
Tour "Enchanting Loreley" including nature hike and wine tasting
Registration Loreley Tours
Fon: +49 (0) 6774 – 745
Fax: +49 (0) 6774 – 8174Mail: info@tempus-rhenus.de
Deutschland Germany information
Rhein river information
Loreley Info now mobile