Pulsbachklamm (Pulsbach gorge)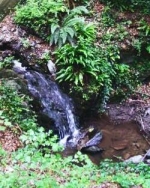 Source: Elke Greiff-Gossen
The Pulsbachklamm is a small but very beautiful and idyllic entrance of the Rheinsteig trail between St. Goarshausen and Kestert. Here the Pulsbach (a brook) runs into the Rhine just after the Ehrenthaler Werth at Rhine-km 561.
This gorge with moss and many sorts of ferns (e.g. deer tongue) leads to the Rheinsteig trail or further to Prath along narrow paths and climbs. On the Rheinsteig trail you can go downriver to Kestert or upriver to St.Goarshausen-Wellmich with Castle Maus, housing an Eagles and Falcons Park. On the way to Castle Maus you can have a rest at the hide Augustusstollen that also has a small grill site. For the walk through the Pulsbachklamm you need hiking boots.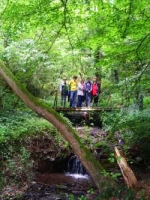 Source: Elke Greiff-Gossen
The way to the Pulsbachklamm
By Bus and by car
There is a large parking for cars and busses to the left of the road B 42 to Koblenz on the right Rhine bank.
Train - Station Kestert
You get to the entrance of the Pulsbachklamm by following the Rhine bank towards St. Goarshausen.
Translator: Thanks to Freddy Storm - a speedy Flem
Bookmark this article at ...












Loreley up-to-date
Bridge
St. Goarshausen - St. Goar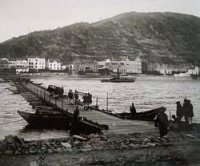 Source:
Archive Loreleycity St. Goarshausen
More historical pictures www.st-goarshausen.de .
Loreley Song
by Jasmin Hillgruber from Lübeck.
Please select the loudspeaker.
Deutschland Germany information
Rhein river information
Loreley Info now mobile