Gleitschirmfliegen
am Rhein über dem Tal der Loreley (Lorelei)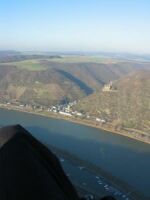 Hang gliding above the Loreley Valley. On 04.10.2004 the field with tow-winches in St. Goar-Werlau obtained the permit accordfing to § 25 LuftVG for starts and landings of sailplanes and hang gliders. Who can fly? All persons with an A-permit or a B-permit with a valid permit for winch towing.
The field is suitable for beginners. Section flights and use of up-current are possible. Only hang gliders are towed, NOT dragons!
Tandem flights with guests are possible !
St. Goar
Windenschlepp-Werlau
Klein & Zimmermann GbR
Am Eisenberg 26
56154 Boppard
Mobil: 0177 - 58 33 759 oder
Mobil: 0177 - 58 33 763
Fon: 06742 - 899 394
Fax: 06742 - 921 394
eMail: info@winde-werlau.de
Paragliding
Bookmark this article at ...












Loreley up-to-date
Bridge
St. Goarshausen - St. Goar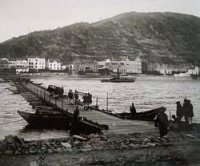 Source:
Archive Loreleycity St. Goarshausen
More historical pictures www.st-goarshausen.de .
Loreley Song
by Jasmin Hillgruber from Lübeck.
Please select the loudspeaker.
Deutschland Germany information
Rhein river information
Loreley Info now mobile