Bike Park Boppard

Bike Park Boppard has been officially approved and released on 05.04.2006. The project Bike Park of the society TG Boppard e.V. has won the competition Sterne des Sports (Star of Sport).
The elevator also carries bikes!
One visit costs 4,20 €
Price of 10 visits: 37,- €



Routes
Bike Park Boppard has the following routes:
Dirtpark:
Length: about 60m
Width: about 20m
Starting tower: about 3,5m high
Up to now 3 lines in different sizes, tables, but principally doubles.
Free ride route:
Length: about 1,3 km
Heights: almost 250 m
Starting tower: about 3 m high
Duration of the ride (according to experience): 3 to 10 minutes
The free ride route has been developed in such a way that you can master it with the hard tail as well as with the fully.
The way to Bike Park Boppard
Coming from the road along the Rhine you drive to the station of the chair lift. On the L207 you drive about 2 km slightly downhill until you arrive at a turning point. On the other side of the road a simple road runs uphill: the Kyfhäuser Weg. You follow this road and you leave Boppard. After about 2 km you arrive at a crossing with a house on the left: the Vierseenblick (View of Four Lakes). On the other side of the road you see the parking. From there you follow the road through the forest about 200 m to the Bike Park.
You can park not far from Bike Park Boppard
The parking lies opposite the Vierseenblick (View of Four Lakes).
Source: Fotos Florian Strigel


Bike Park Boppard
Updated information
only in German
Translator: Thanks to Freddy Storm - a speedy Flem
Bookmark this article at ...












Loreley up-to-date
Bridge
St. Goarshausen - St. Goar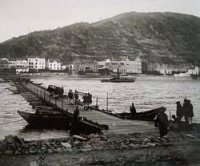 Source:
Archive Loreleycity St. Goarshausen
More historical pictures www.st-goarshausen.de .
Loreley Song
by Jasmin Hillgruber from Lübeck.
Please select the loudspeaker.
Deutschland Germany information
Rhein river information
Loreley Info now mobile