Loreley Visitors' Center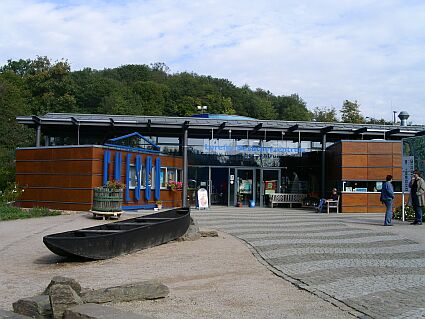 Source: Elke Greiff-Gossen
Opening hours:
March
daily from 10 a.m. - 5 p.m.
April - October
daily from 10 a.m. - 6 p.m.
November - February
on weekends from 11 a.m. - 4 p.m.
Loreley Visitors' Center
On May 26, 2000 the Loreley Visitors' Center in the Middle Rhine Valley was officially opened as part of the world-wide recognized EXPO-2000-Projects. This landscaped park on the Loreleyplateau offers a varied experience of the charming Middle Rhine landscape and the region surrounding it. Follow the traces of the first Rhine tourists from the 19. century yourself and enjoy the history, culture, nature and the myth of the Loreley.
Barrier-free
It is built barrier-free and offers exemplary solutions: wheelchair-accessible parking areas, a ground floor main entrance, a stepless side entrance to the restaurant, wheelchair-accessible restrooms, a ramped ground floor entrance to the different platforms of the exposition gallery, ground floor entrance to the adventure area "The Loreley Myth".
Information at:
Besucherzentrum Loreley
Auf der Loreley
56346 St.Goarshausen
Phone: 06771 / 5990 93
Fax.: 06771 / 5990 94
Email:
info@besucherzentrum-loreley.de
Bookmark
this article at
...











---
| | |
| --- | --- |
| | |
| Source: Photo Loreley Felix Koenig, Photo Marksburg Braubach Touristik | © 2006 go_on Software GmbH |