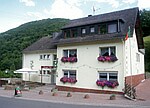 Our guest house offers very reasonable and modern guest and family rooms en suite, balcony, lounge and sunbathing area and facility for a barbecue. A large parking lot is directly situated at the house. We will organize led vineyard walking tours with view of the beautiful Rhine Valley, wine tasting, guided tours, castle visits, boat trips, bicycles and pickup service from the station of Bacharach.

We would be happy to have you as our guests.
Hotel Pension
Steeger Tal
Inhaber Frank Aldazabal
Blücherstraße 250
55422 Bacharach-Steeg
Tel: 06743-1470
Fax: 06743-937371
eMail: info@steeger-tal.de
Web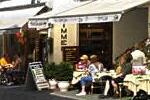 Enjoy your holiday in our small and cosy guest house on the opposite side of the historical "House Sickingen" (built in 1420) and the "Old Town Hall" in the old city of Bacharach.
All rooms are renovated and equipped with shower/toilet/TV – some of them having balcony/radio/safe/mini bar/kitchen and refrigerator.
We will offer you a holiday according to your wishes with the best relaxation.
Hotel Pension
Haus Dettmar
Annelie und Hans Dettmar
Oberstraße 8
55422 Bacharach am Rhein
Germany
Phone: +49(0)6743 - 2661
Fax. : +49(0)6743 - 919396
eMail: PensionDettmar@t-online.de
Web