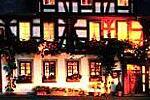 Discover the Upper Middle Rhine Valley World Heritage in one of the most beautiful country inns in Rhineland-Palatinate. A whiff of fine living, romanticism DISTILLED and celebrated culinary skills – it does not take more than this to turn your short holiday into an unforgettable experience. But it simply ought not be anything less than that either!
We wish you a pleasant stay under our roof.
Yours, the Kunz family and the Swan-Team.
Hotel · Country Inn
Zum Weissen Schwanen




Kunz family
Brunnenstraße 4
56338 Braubach
Germany
Phone: +49(0)2627/9820
Fax. : +49(0)2627/8802
eMail: info@zum-weissen-schwanen.com
detail information