Osterspai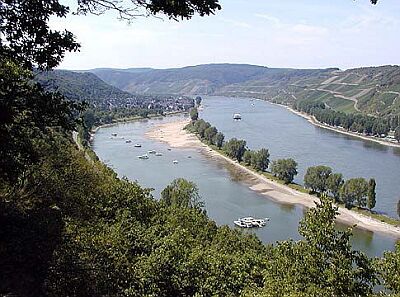 Kaynak:
borough Osterspai
The borough Osterspai is part of the agglomeration of Braubach.
Characteristic for Osterspai are the beautiful half timbered houses as well as Liebeneck Palace high above the town which was built around 1700 as hunting lodge and summer residence by the gents "von Liebenstein".
Further sights are the baroque parish church "St.Martin" from the 18th - 20th century and the former water castle with the chapel "St. Petrus" from the 13th Century.
Through the so-called "narrow door" you have possibilities for swimming and fishing in the Rhine (Ren). Ideal for children !!!
Around the town there are expanded hiking trails such as the Rheinsteig. The entrance is located at the station with parking possibilities.
Specialities of the town are fruit and winegrowing. Appropriate products are offered by inviting sales booths on the Rhine bank (Rheinuferstraße).
Current Loreley
Loreley guided tours
Tour "Enchanting Loreley"
Tour "Enchanting Loreley" including nature hike and wine tasting
Registration Loreley Tours
Fon: +49 (0) 6774 – 745
Fax: +49 (0) 6774 – 8174Mail: info@tempus-rhenus.de
Deutschland Germany information
Rhein river information
Loreley Info now mobile