Braubach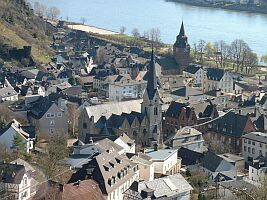 A historical city with medieval character and idyllic flair. Surrounded by vines and roses, Braubach is guarded by the impressive Marksburg Castle, which thrones high above the old city. It is the only never destroyed hill-top castle on the central Rhine (Ren), a landmark and point of attraction at the same time
Numerous remainders of the medieval city walls are still to be found, such as the historical church "Barbarakirche" from the 13th century, whose tower was a corner attachment of the city wall. Also worth seeing the chapel "Martinskapelle" from the 11th Century. Here you also find the last resting place of the famous chamber singer Heinrich Schlusnus (1888-1952), who was born in Braubach.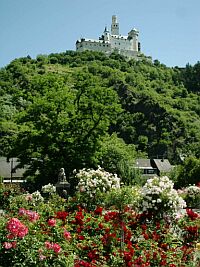 Pleasure grounds with Marksburg
Philippsburg Castle with its romantic courtyard is located at the south exit of the old city of Braubach. Here the European Institute of Castles accommodates one of the largest libraries of castle documents in Europe.
Braubach offers its guests quiet and contemplation, as well as amusement, culture and various excursions to the rivers Rhine, Lahn and Moselle or to the Taunus highlands.
Already in the first documentary mention of Braubach in the year 691 this city was connected with viniculture. The work on the steep slopes was very demanding and it still is. But it's worth the effort. In October, when the sun accompanies the grape pickers, the winegrowers know that soon a good wine will emerge in their cellar.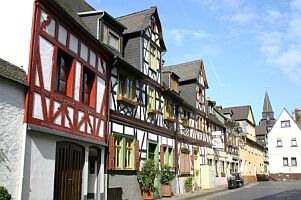 Old city of Braubach
The houses with foundations from the 16th till the 18th century captivate by their originality. Those who get involved with the wine and rose city Braubach and its inhabitants will experience unforgettable days.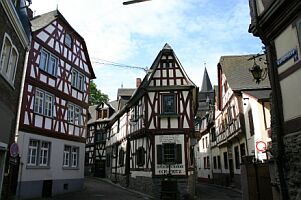 Corner "Fritz"
Numerous walking trails on the Rhine heights and park-like sites on the Rhine bank invite to hiking and walking. Well tended hotels and cosy guest rooms in richly decorated half timbered buildings offer conviviality in one of the most beautiful places on the central Rhine (Ren). History becomes alive in the quiet corners of the idyllic old part of the city, which you should get to know on a guided tour.
Kaynak: Fotoğraf ve Metin Braubach Touristik
Current Loreley
Loreley guided tours
Tour "Enchanting Loreley"
Tour "Enchanting Loreley" including nature hike and wine tasting
Registration Loreley Tours
Fon: +49 (0) 6774 – 745
Fax: +49 (0) 6774 – 8174Mail: info@tempus-rhenus.de
Deutschland Germany information
Rhein river information
Loreley Info now mobile