Current Loreley
Loreley guided tours
Tour "Enchanting Loreley"
Tour "Enchanting Loreley" including nature hike and wine tasting
Registration Loreley Tours
Fon: +49 (0) 6774 – 745
Fax: +49 (0) 6774 – 8174Mail: info@tempus-rhenus.de
Wine festival Braubach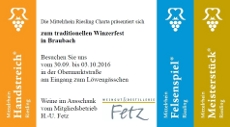 From 30th of September till 3rd of October the Mittelrhein Riesling Charta will be exhibiting for you at the wine festival in Braubach.
Visit us at the Obermarktstraße at the entrance to the Löwengässchen.
We offer wines from the member company H.-U. Fetz.
We are looking forward to your visit!
Bridge
St. Goarshausen - St. Goar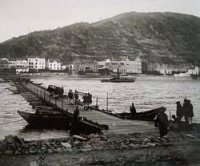 Source:
Archive Loreleycity St. Goarshausen
More historical pictures www.st-goarshausen.de » .
Häuser Crane
Loreley Song
by Jasmin Hillgruber from Lübeck.
Please select the loudspeaker.
Deutschland Germany information
Rhein river information
Loreley Info now mobile