An old crane in the UNESCO cultural landscape Upper Middle Rhine Valley
Over the past 200 years the Rhine forcing its way through the slate rocks has been immortalized in paint, songs and poems as being a romantic region, one of the first regions opened for mass tourism.
Its culture however extends far beyond this recent past. For more than 2000 years this narrow valley has been a central European traffic route. The river connects southern Europe with the regions of the North Sea and the Baltic Sea. It was equally useful for the development of economic and trade relations as for troop movements. The cities on the Rhine have always taken part in trade and transport, achieving considerable prosperity. But trade and transport were often violently and predatorily obstructed by the castles. The UNESCO gave preference to the meaning of the Rhine Valley as a historical transport route as criterion of world heritage affiliation, mentioning the Rhine romanticism only in third place.
Monument of a historical transport landscape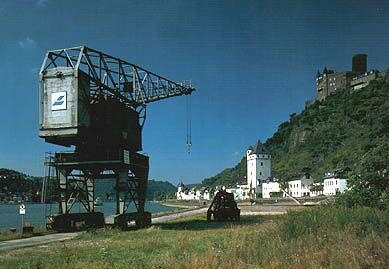 The old harbour crane in St. Goarshausen
Photo: State Office for Preservation of Historical Monuments Rheinland-Pfalz
Almost on each older sight of the cities on the Rhine one finds the simple constructions of the beam cranes on the riverbank in front of the city walls. Some of them withstood the centuries and now belong to the obvious monuments of the cultural landscape.
In Bingen, Östrich-Winkel and Andernach the cranes testify to the importance of the traffic route and the economic participation of the region in traffic: millstones in Andernach, wine barrels in the Rheingau, bulk goods such as sand and gravel, coal and grain at the old crane in St. Goarshausen.
The old harbour crane on rails on the quay in front of the city at the feet of castle Katz is one of the first and largest electrically operated jib cranes on the Rhine.
For nearly 100 years bulk goods were shipped here and transported with the narrow-gauge railway through a narrow valley to the Taunus mountains. Till a few years ago noise and dirt were the unpleasant side effects of this harbour facility. So it is understandable that the citizens of St. Goarshausen do not appreciate the fact that this crane has remained, standing now as an industrial monument in front of their city - even though it is a monument of the UNESCO cultural landscape. In their opinion this monument does not harmonize with the romantic Rhine near the Loreley.
Source: Dr. Heino Rönneper
Translator: Thanks to Freddy Storm - a speedy Fleming
Current Loreley
Loreley guided tours
Tour "Enchanting Loreley"
Tour "Enchanting Loreley" including nature hike and wine tasting
Registration Loreley Tours
Fon: +49 (0) 6774 – 745
Fax: +49 (0) 6774 – 8174Mail: info@tempus-rhenus.de
Deutschland Germany information
Rhein river information
Loreley Info now mobile