Bingerbrück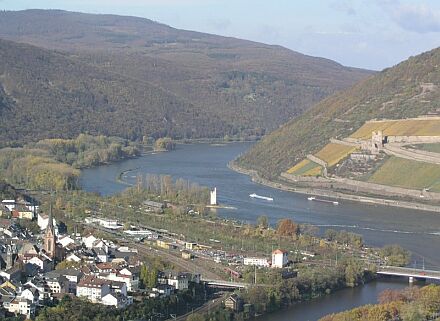 Fonte: Heimatverein Bingerbrück
Bingerbrück is a district of Bingen since 1969. It is located to the left of the Nahe estuary. Two bridges join Bingen and Bingerbrück, one of them is the historic Drususbrücke.
On a rock island in front of Bingerbrück stands the toll tower Mäuseturm. It is a former watch tower. Its name is derived from "Maut" = "toll". Until 1974 the tower served as a signal station for the navigation on the Rhine.
Bookmark this article at ...












Current Loreley
Loreley guided tours
Tour "Enchanting Loreley"
Tour "Enchanting Loreley" including nature hike and wine tasting
Registration Loreley Tours
Fon: +49 (0) 6774 – 745
Fax: +49 (0) 6774 – 8174Mail: info@tempus-rhenus.de
Deutschland Germany information
Rhein river information
Loreley Info now mobile