Rides in a covered wagon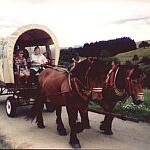 Wanderreitstation (Manege) Pabst

Our Ardenner-Pfalz coldbloods take you on a most pleasant trip with 2 HP through the romantic Hunsrück that already pleased the notorious "Schinderhannes". No need te get hungry or thursty on the way. You decide yourself how long the ride will take.
St. Goar
Angela and Walter Pabst
Auf dem Flürchen
56329 St.Goar - Biebernheim
Tel. + Fax: 06741 - 70 21
eMail: AngelaPabst@web.de
Current Loreley
Loreley guided tours
Tour "Enchanting Loreley"
Tour "Enchanting Loreley" including nature hike and wine tasting
Registration Loreley Tours
Fon: +49 (0) 6774 – 745
Fax: +49 (0) 6774 – 8174Mail: info@tempus-rhenus.de
Deutschland Germany information
Rhein river information
Loreley Info now mobile