Climbing in the Loreley Valley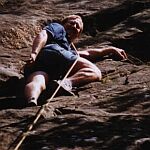 The valley Morgenbachtal is an eldorado for climbers. It has much to offer, for beginners as well as for experienced. In this environment, a natural reserve since 1984, climbing is expressly allowed. But please stay on the outlined paths.
There are about 100 routes and variants with a degree of difficulty between 2 and 8, among which many semi difficult sections between 4 and 7. Some paths are closed because there is a risk of rocks coming down. The presently closed paths are indicated on the infopanel of the DAV Sektion Mainz on the parking in front of the climbing area.
The well protected routes pass along up to 20 m high quartzite rocks.
The entrance of this attractive climbing area is in Trechtingshausen. In the village center you follow the roadsign Gerhardshof. You ascend about 2,5 km on a narrow road until you reach the parking in the forest. From there a short climb through a pebble field brings you to the climbing rocks.
Morgenbachtal (Valley of the Morgenbach),
Here you find detailed information from the Mainzer Alpenverein (only in German). Just select "Klettergebiet Mbt" in the navigation.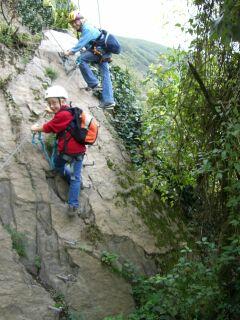 The climb-walk in Boppard has been developed by the city of Boppard in cooperation with the Deutscher Alpenverein / Sektion Koblenz. It was opened in the summer of 2006.
The climb-walk parallels the Rhine Castle Trail on the left riverbank, so you can at any time avoid too difficult passages.
This climb is rather demanding, so you absolutely need climbing equipment and good shoes. The climb takes about 1:15 h.
How to get to the climb in Boppard
You can take the train to the main station in Boppard, situated at about 1000 m from the entrance of the climb.
By car you take the exit Boppard/Buchholz on the A61, then you follow the B9 in the direction of Koblenz.
Parking close to the climb in Boppard
The parking lot is at the St.-Remigius-Platz, directly located at the B9.
Fixed rope route in Boppard
Here you find detailed information (only in German).
The climb Oelsberg is the most recent in the world heritage Upper Middle Rhine Valley, opened on 01.07.2006 in Oberwesel. It is 1,3 km long and offers a good challenge for experienced climbers as well as for beginners.
Fixed rope route in Oberwesel
Here you find detailed information (only in German).
Translator: Thanks to Freddy Storm - a speedy flem
Current Loreley
Loreley guided tours
Tour "Enchanting Loreley"
Tour "Enchanting Loreley" including nature hike and wine tasting
Registration Loreley Tours
Fon: +49 (0) 6774 – 745
Fax: +49 (0) 6774 – 8174Mail: info@tempus-rhenus.de
Deutschland Germany information
Rhein river information
Loreley Info now mobile