Rheinfels Kalesi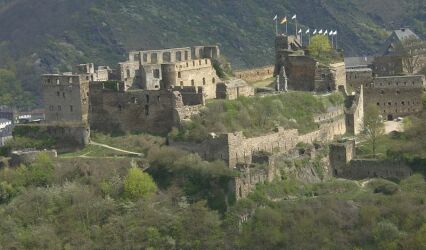 Kaynak: Tobias Knab GNU FDL
Opening hours
Mid-March - beginning of November
daily 09.00h - 18.00h
last admission 17:00h
Else weather permitting
Saturdays + Sundays 11:00h - 17:00h
last admission 16:00h
Phone: (06741) 383
Recommended for kids
with flashlight and durable clothes !!!
The counts of Katzenelnbogen founded Rheinfels Castle around 1245. The castle was used as the count's residence and was one of the most significant centres of courtly life of the region. In 1479 the castle came to the landgraves of Hessen who expanded Rheinfels to a fortress. As the only military complex arrangement on the left bank of the Rhine river it withstood the troops of Louis XIV in 1692.
Then in 1794 Rheinfels fell - indeed, without a fight - to the French revolutionary army, that blew it up. The remains served later as a stone quarry for the reconstruction of Ehrenbreitstein, before Prince Wilhelm of Prussia acquired the medieval part of the ruin in 1834.
Since 1925 Rheinfels Fortress is a property of the city of St.Goar and managed by the "Hanseorden". Visitors can rummage through the gigantic area of the fortress, learn about the history in the museum and enjoy the marvellous panorama of the Rhine Valley. One should on no account miss a walk through the gigantic vault cellar and the labyrinth of the subterranean mine galleries and casemates.
Then an extensive stop is recommended in the castle hotel, which is known for its excellent kitchen.
Kaynak: Mittelrheinforum