Koblenz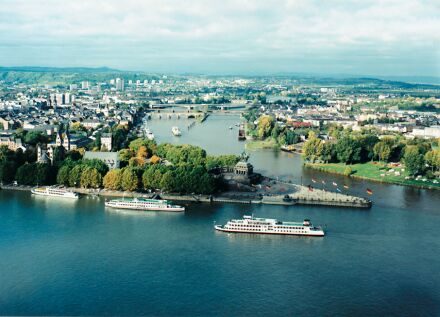 Koblenz - gate to the Unesco Upper Middle Rhine Valley World Heritage
Koblenz - embedded in the Unesco Upper Middle Rhine Valley World Heritage - is one of the most beautiful German cities. It is located at the confluence of the rivers Rhine (Ren) an Mosel called "Deutsches Eck". More than 2000 years ago, the Romans called it "apud confluentes", which stands for "at the coalescence".
The arch of history stretches from the Roman establishment to the modern times. Celts, Franconians, Merowingians and many others left their traces here. The rich culture, a fresh regional cuisine, the uncomplicated cordiality of the Rhine country and a the good Moselle wine make the singular flair of this city.
Koblenz – rendezvous with "Father Rhine" and "Mother Moselle"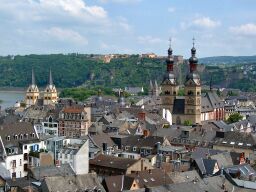 The old town of Koblenz: "Florins" church (left), "Liebfrauen" church (right) and in the background the basilica St. Kastor.
A walk along the picturesque lanes of the old town with the important basilica "St.Kastor" from the 9th Century, "St.Florin" and "Liebfrauen" churches from the 12th Century and the statue of the German emperor "Kaiser Wilhelm" that dominates the location "Deutsches Eck" is a live history lesson of a special kind.
From the location "Deutsches Eck" one has a nice view of the Ehrenbreitstein Fortress high above the former baroque residence quarter. It is undisputedly one of the most impressive buildings on the Middle Rhine.
Those who explore Koblenz will also discover the wonderful public parks and gardens of the city. Particularly worth mentioning are the parks and gardens of the Elector's Palace which breathe a mediterranean flair in summertime. In addition, the flower garden, not far away from the "Deutsches Eck" invites to stay and relax.
Kaynak: Fotoğraf ve Metin Koblenz Touristik
Current Loreley
Loreley guided tours
Tour "Enchanting Loreley"
Tour "Enchanting Loreley" including nature hike and wine tasting
Registration Loreley Tours
Fon: +49 (0) 6774 – 745
Fax: +49 (0) 6774 – 8174Mail: info@tempus-rhenus.de
Deutschland Germany information
Rhein river information
Loreley Info now mobile