Boppard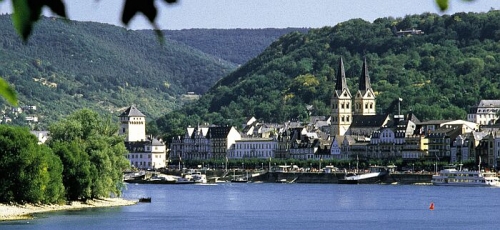 Boppard persuades its guests with versatility
The most precipitous vineyards and one of the nicest bank promenades on the Middle Rhine, the oldest preserved Roman fort walls to the north of the Alps and the birthplace of a chair designer of worldwide fame - Boppard guests can look forward to eventful and diverse days. And to wonderful surroundings.
Boppard has always been a visitor magnet, not least because of the fashionable inclined bank promenade, which invites to a relaxed strolling. A stroll that quickly becomes a walk through history. Directly at the Rhine bank one passes the mighty looking tollhouse and stronghold of the Electors of Trier. From Prince Elector's Castle they controlled Boppard and the Central Rhineland. Today, among other things, you will find the Thonet museum here, where the world-famous coffee house chairs of Bopparder Michael Thonet prove her timeless elegance.
Clear traces of the Roman times are still visible in Boppard. On the edge of the old city the walls of the in 360 a.C. established Fort Bodobrica still rise up to 9 metres. 28 round towers protected the Roman fort once from the approaching Alemans and Franconians. Today the rests of it can be visited in the archaeological park of Boppard.
A city walk in the wine city of Boppard finds a suitable end in one of the numerous taverns named "Straußenwirtschaft". When one meets the Bopparder in cosy circle, one must not look on the wine list long to find the best wines of the Middle Rhine. Because in immediate proximity lies one of the best of wine-growing districts. In sunny south location it extends in a crescent-shaped manner along the large Rhine loop. It is called the "Bopparder Hamm". On 75 hectares the queen of the vines, the Riesling is cultivated. To heart desire one can taste the Bopparder wines in April, directly on site, when the winegrowers invite to the Wine Spring on the Middle Rhine. However a walk along the Bopparder Hamm is also worthwhile in any other season. Beside the magnificent view it is above all the inclination of the steep slopes that makes a deep impression. Non-winegrowers may quickly get dizzy, but after the walk the wine tastes all the better.
Those who lengthen the walk, reach from the Bopparder Hamm over very well arranged footpaths the "view of four lakes" and the Gedeonseck, a restaurant, from where you have a fantastic view of the big Rhine loop. They way back to Boppard is comfortable, for you can take the chair lift. An other, not everyday transport possibility waits in the Bopparder central station: the Hunsrückbahn, a protected monument. Through five tunnels and over two viaducts it takes you from Boppard to Emmelshausen, bridging on this short trajectory a 350 metres difference in height.
Kaynak: Fotoğraf ve Metin Boppard şehir
Current Loreley
Loreley guided tours
Tour "Enchanting Loreley"
Tour "Enchanting Loreley" including nature hike and wine tasting
Registration Loreley Tours
Fon: +49 (0) 6774 – 745
Fax: +49 (0) 6774 – 8174Mail: info@tempus-rhenus.de
Deutschland Germany information
Rhein river information
Loreley Info now mobile