Bacharach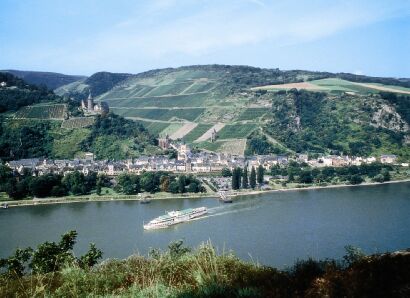 Bacharach with the districts Steeg, Henschhausen, Medenscheid and Neurath (about 2.250 inhabitants on a surface of, 2.331 ha).
Bacharach was first mentioned in a document of the year 871. Bacharach has an excellent reputation from ancient times because of its viniculture and wine trade. Already in the Middle Ages the city enjoyed a world-wide reputation as reloading point for wine from the Middle Rhine wine, the Nahe and the Rheingau. It was one of the best known wine cities.
Bacharach is the tourist centre of the associated communities. Long ago the medieval townscape exerted a great attraction on travellers. Also the old town fortification, Stahleck castle, (one of the most beautiful youth hostels in the Rhine Valley), the Gothic Werner chapel, as well as the castle ruins Stahlberg in the district Steeg.
An expanded network of hiking trails, boat trips on the Rhine, wine tasting, cosy restaurants and hotels, offer a varied choice for recovery and relaxation.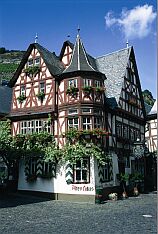 Old House
Sights:
Old house; market Place; Gothic Werner chapel; old post office; protestant church St. Peter; Stahleck castle; toll yard with the catholic Church St. Nikolaus; token coin of the Electoral Palatinate (former mint); office of the Electoral Palatinate (now Town Hall); mostly preserved town fortifications (ring wall and towers); numerous half-timbered buildings in Bacharach and in the district Steeg; St. Anna protestant church in Steeg; castle ruins Stahlberg in Steeg; Roman street in the district Kühlberg.
Kaynak: Fotoğraf ve Metin Rhein-Nahe Tourism - Bacharach
Current Loreley
Loreley guided tours
Tour "Enchanting Loreley"
Tour "Enchanting Loreley" including nature hike and wine tasting
Registration Loreley Tours
Fon: +49 (0) 6774 – 745
Fax: +49 (0) 6774 – 8174Mail: info@tempus-rhenus.de
Deutschland Germany information
Rhein river information
Loreley Info now mobile