Assmannshausen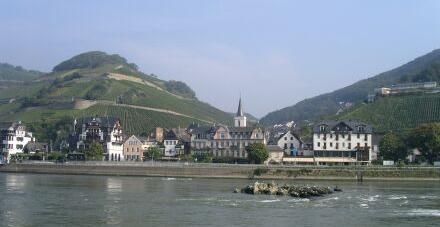 Kaynak: Elke Greiff-Gossen
Assmannshausen, opposite Rheinstein castle, is a famous red wine place because of its wines from the "Höllenberg" (hell hill). Here one can savour this Pinot Noir in numerous historical taverns. In Assmannshausen there are lovely half-timbered houses like the famous luxury hotel and guesthouse Krone at the Rhine promenade, a famous poets lodge in the 19th century.
Also worth seeing: a church in late Gothic style with an altarpiece and a 15th century madonna. Also the Clemens chapel, a 12th century basilica, as well as the hunting lodge Niederwald.
The delightful environment of Assmannshausen offers possibilities of hiking e.g. on the trails Rheinsteig and Rhein Burgen Wanderweg, as well as numerous sportive activities.
Current Loreley
Loreley guided tours
Tour "Enchanting Loreley"
Tour "Enchanting Loreley" including nature hike and wine tasting
Registration Loreley Tours
Fon: +49 (0) 6774 – 745
Fax: +49 (0) 6774 – 8174Mail: info@tempus-rhenus.de
Deutschland Germany information
Rhein river information
Loreley Info now mobile